Vintimar offers Shipboard Monitoring and Control Systems. We specialize in integration of shipboard systems on new builds as well as in retrofitting existing systems. Our systems provide monitoring and control from easy-to-use graphical user interfaces (GUIs). These GUIs runs on touchscreen displays as well as on smaller operator interface terminals. We use components that are rugged and can handle the marine environment to provide years of reliable service. Our screens incorporate extensive research in the avionics industry to bring you functional and easy to read graphic user interfaces. See the products page for more details on marine products.

Vintimar also supports and troubleshoots monitoring, control and PLC based systems supplied by others including companies that are no longer in business.

We have presented technical papers at seminars held by the Yacht Report during Projects 97 and 99 pertaining to shipboard monitoring systems and computer applications on yachts. See links below:
Shipboard Monitoring and Control Systems: Selection, Design and Installation Criteria
Computers Aboard! Design, Implementation and Specialized Applications
SHIPBOARD ALARM, MONITORING & CONTROL SYSTEM:
Monitor and control the operation of onboard systems. Obtain operational parame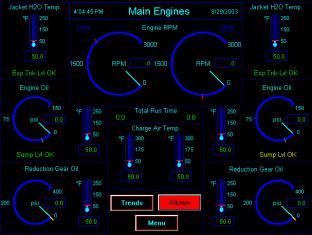 ters and control via standalone sensors or using proprietary manufacturer protocols (Catlink, DDEC).
Easily modify alarm setpoints. Enable or disable alarms on an item by item basis. Log alarms and events with time and date stamps. Historically log and chart operational parameters. Tank level monitoring with the ability to easily switch between English and Metric units. Fuel consumption management including monitoring, logging of fuel flow and estimating future fuel needs. Bilge & ballast system monitoring and control. Alarming based on bilge levels and, if desired, automatic activation of appropriate bilge pumps. Track run hours for different equipment and specify maintenance task setpoints based on hours as well as gallons burnt for engines.
NAVIGATION: Installation and support of Transas electronic charting software.
DISPLAYS: We supply Hatteland and other computer displays suitable for bridge as well as sunlight readable applications.
HVAC: Control & display of temperature and humidity, trending and setpoint deviation alarming. Pool and spa control. Ability to easily save and recall owner/crew setpoints.
SHIPBOARD SECURITY / INTEGRITY: Interface with standalone security systems to provide intruder alarm mimics, zone arming/disarming capability and status indication using actual vessel layout. Show open/close status of doors and hatches as well as control doors with electric locks.
CCTV: Camera control including pan, tilt, zoom and focus capabilities.
FIRE & LIFE SAFETY: Provide alarm mimic capability and smart graphical and audio evacuation route information for the occupants based on the fire location. Interface with Person Overboard Systems.
BRIDGE INTEGRATION: Flexible system for sharing limited number of displays between multiple video sources such as ECDIS, CCTV cameras and radar.
REMOTE ACCESS/NOTIFICATION: Event driven messaging to specified phone numbers and email addresses. It is also possible to connect in from a remote location and perform monitoring/control tasks.
Selected project history:
M.Y. Netto (114ft Nordlund, 2014)
M.Y. El Tigre (111ft Nordlund, 2014)
M.Y. Seaquest (164ft Westport, 2008)
M.Y. Vango (164ft Westport, 2006)
M.Y. Laurel (71m Delta, 2006)
M.Y. Lady Anne (68.5m Amels, 2005)
M.Y. Freedom (130ft Westport, 2005)
S.Y. Felicita West (64m Perini Navi, 2003)
M.Y. Fortunate Sun (54m Oceanfast, 2003 - Perfect Prescription)
M.Y. Octopus (126m Lürssen, 2003)
M.Y. Via KassaBlanca (112ft Westport, 2003 - Seaquest)
M.Y. Skat (71m Lurssen, 2002)
M.Y Anson Bell (156ft Palmer Johnson, 2002)
M.Y. Souvenir (87ft Queenship, 2002)
M.Y. Aghassi (142ft Christensen, 2002 - Primadonna)
M.Y. Aquasition (118ft Broward, 2000)
M.Y. Tatoosh (93m Kusch Yachts, 2000)
M.Y. Le Grand Bleu (108m Kusch Yachts, 2000)
S.Y. Rebecca (139ft Pendennis, 1999)
M.Y. Daedalus (151ft Delta, 1999)
M.Y. Summer Suite (74ft Hatteras, 1999 - Sunquest)
S.Y. Independence (53m Perini Navi, 1998)
M.Y. Delta Victor (63ft Sunseeker, 1998)
M.Y. Limitless (96m Lurssen, 1997) Yacht Report article on Limitless Refit
M.Y Abbracci (155ft Christensen, 1997 - Silver Lining)
S.Y. Shaman (88ft Derecktor, 1997)
S.Y. Galaxia (52m Perini Navi, 1997 - Liberty)
M.Y D'Natalin (151ft Delta, 1996 - Sally Ann)
M.Y. Seaquest (82ft Hatteras, 1996)
M.Y. Meduse (62m De Vries, 1996)
M.Y. Southern Princess (115ft Broward, 1995 - Lady Hawke)
F.T. Northern Hawk (109m Ulstein Hatlø AS, 1990)
M.Y. Curt-C (145ft NQEA Shipyards, 1989 - Netanya V)
M.Y. Skye Tyme (130ft Christensen, 1989)
M.Y. Centinela IV (51m De Vries, 1982)
M.Y. Constellation (80.6m Oceanco)
M.V. Discovery (100ft Romsdal Trawler)
M.V. Golden Alaska (305ft)
R.V. David Starr Jordan (171ft)